2021 was another great year for Turvec. Continuing to deliver high quality projects across a wide range of industries and sectors, we have even bigger plans to scale up our operations into 2022. 
Once again, the number of people cycling across the UK & Ireland has risen, and with it a rising demand for improved infrastructure. We're proud to deliver projects that meet the highest industry standards and will continue to improve cycling for everyone.
Here's a selection of some of our favourite projects we worked on this year, from vast basement two-tier installations to bespoke glass cycle hubs.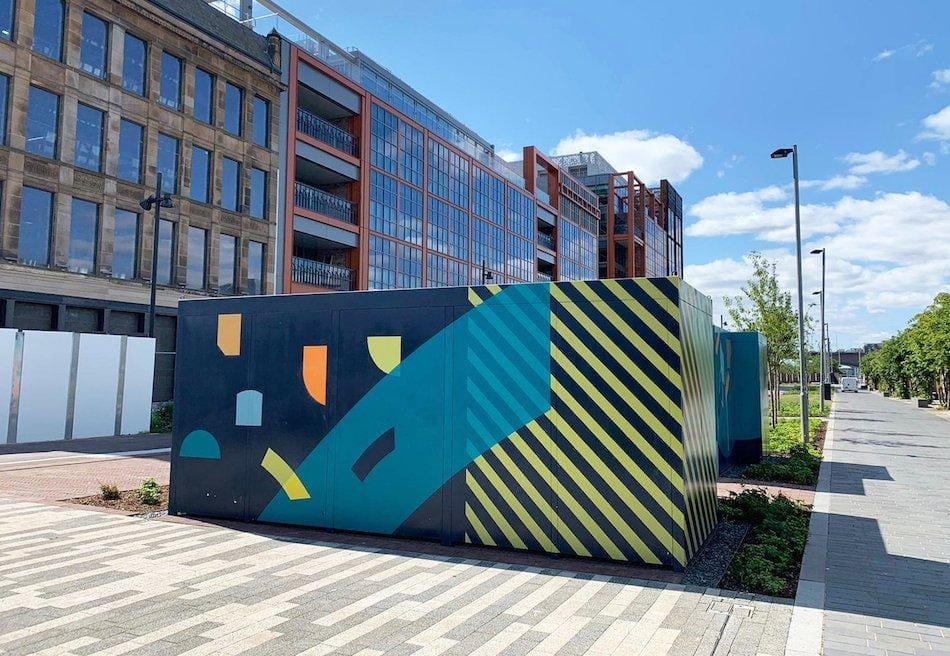 Image credit: Barclays Glasgow Campus for M&H
Barclays Glasgow Campus
Part of the new Buchanan Wharf development, Barclays Glasgow Campus is one of Scotland's largest ever construction projects and will be the bank's new Scottish headquarters. 
We worked in combination with McLaughin & Harvey, consultants, and the client for 12 months finalising designs and preparing a complex project delivery. Involving assembling the shelters at a local artists yard who spray painted the units, Turvec then delivered the steel shelters fully assembled on site.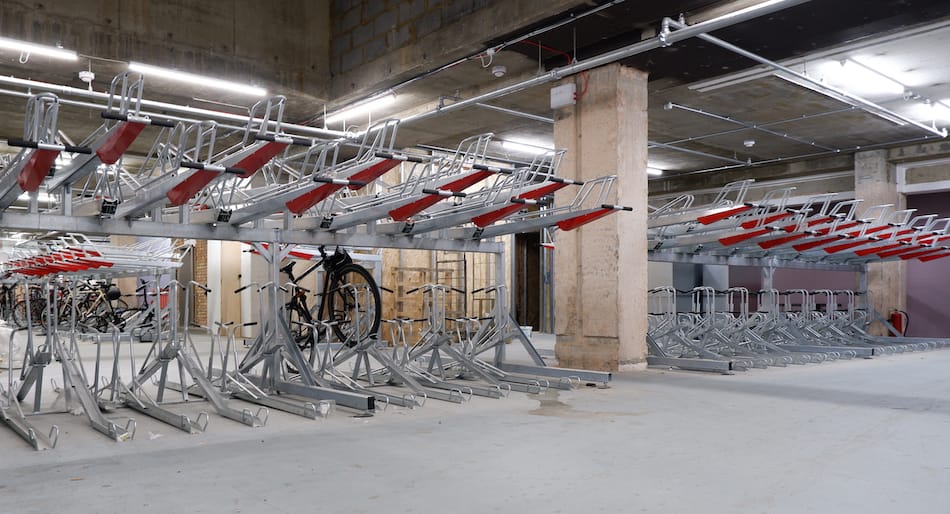 Image credit: 180 The Strand for Soho House
180 The Strand
At 180 The Strand, Turvec installed durable and easy-to-use two-tier racks creating secure basement capacity for 440 cycles. It all forms a part of Soho House's impressive plan to transform the brutalist building into a shared office space complete with rooftop pool, health club, and high-end dining.
We enjoyed the direct and collaborative approach with client Soho House, who were interested in a quality and hard wearing solution that would suit their members and tenants.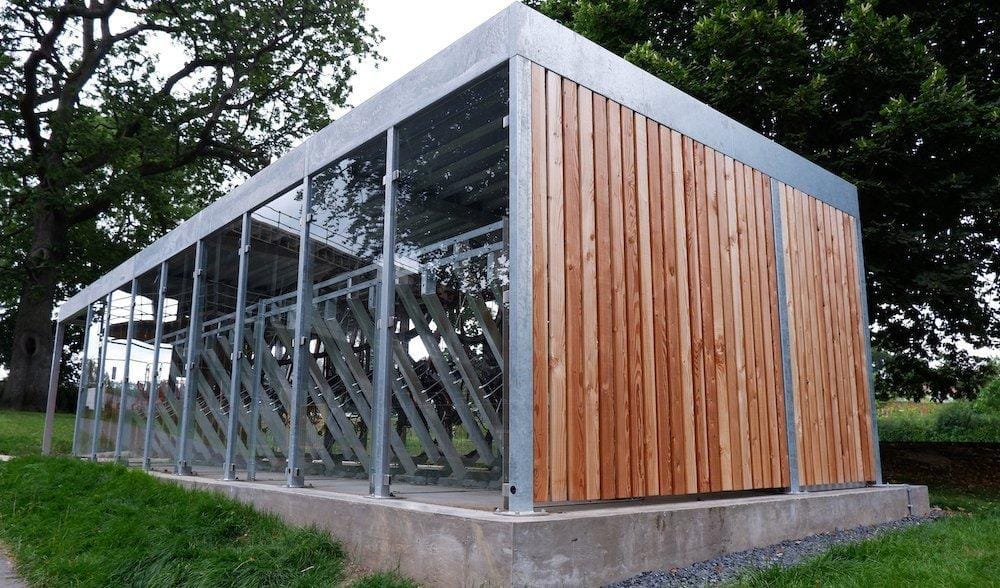 Image credit: Riverside Cycle Hub for Powys County Council
Riverside Powys Cycle Hub
Working for Powys County Council, Turvec designed and installed an industry leading glass cycle hub for the new Riverside Centre in Newtown. The hub uses premium timber and glass panelling. With the addition of a sedum roof, the facility compliments the surrounding environment. Key-code access keeps the shelter secure, and integrated drainage removes the need for external guttering.
Of the new cycle hub, Gary Mitchell, CEO of Open Newtown said, "The new bike hub is an excellent addition to the town. Not only will it help promote the benefits of cycling, but it will also help to establish the town as a destination, promoting its big open spaces, access to the river, canal, and other active travel routes. It also adds to a growing number of wellbeing activities available in the town."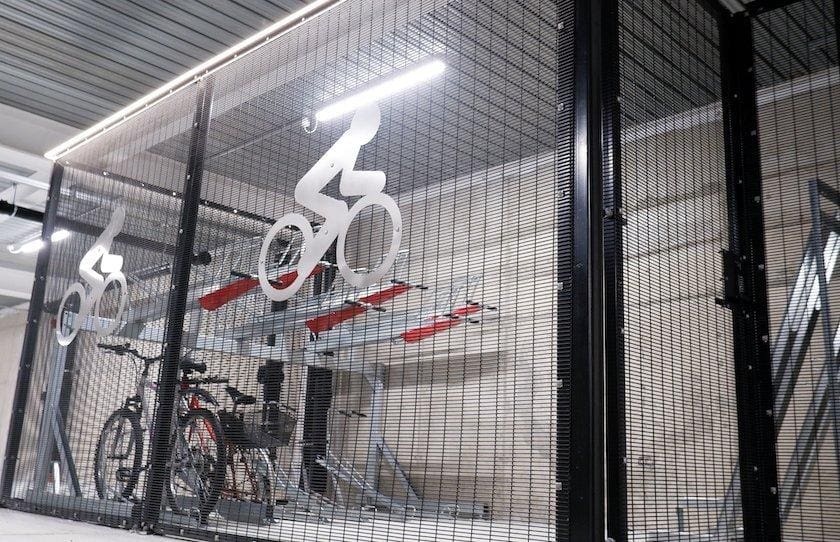 Image credit: Baltic Yard for ISG Construction
Baltic Yard
Baltic Yard is a new build-to-rent development in Liverpool. Turvec worked for ISG Construction to design and install sophisticated cycle parking stores using premium bike racks housed in secure powder coated caging. 
The laser-cut graphics mean the storage stands out in the concrete basement parking garage, providing both good looking and functional bicycle storage for residents.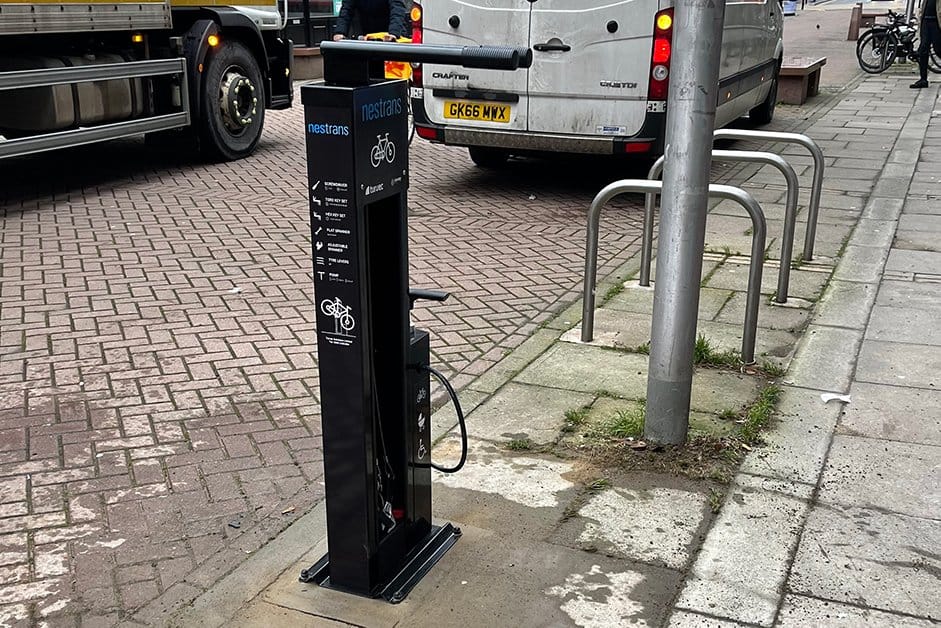 Image credit: Bike Repair Stations for Aberdeen Council
Aberdeen Council Bike Repair Stations
Turvec supplied hundreds of bike repair station and pump units this year. One of our favourite installations was Aberdeen, where the council purchased seven units with custom branding, installed across the region to help improve cycling infrastructure for local residents.
As ever, we had a huge variety of repair station clients – from local cafes and pubs, through to our continued partnership with the Central England Co-op. You can read more about the benefits bike repair stations can bring to communities in our piece in collaboration with Sustrans here.
"It's been another great year for Turvec. We've grown our team and worked on some amazing projects, with a welcome return to office working. We're looking forward to scaling up again in 2022 and continuing to support and lead positive growth in cycling infrastructure across the UK & Ireland," says Rupert Harvey-Scholes, Operations Director at Turvec.