£2 billion. That's what the UK government has pledged to revolutionise cycling and walking earlier this year. In the wake of the Coronavirus pandemic, cycling has emerged as the ideal way to get around.
And it's not hard to see why. Cycling avoids busy public transport, supports physical and mental health, and minimises air pollution. You'll save money, have fun, and often beat the bus, too.
Not surprisingly then, many people have recently started commuting to work, university, or the shops by bike. This guide serves as a starting point for transforming your commute, or offers plenty of extra tips on how to make the most out of your journey – even for the most accomplished city cyclist.
What Should I Wear?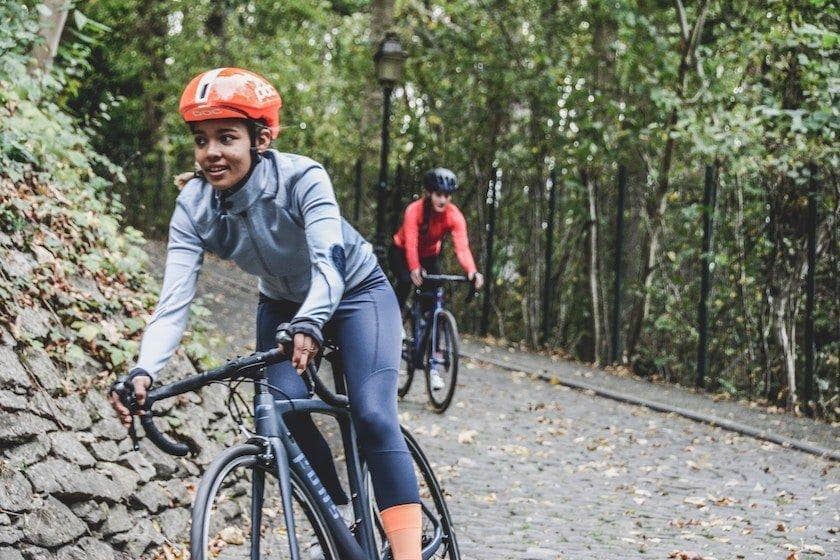 Jeans? Suit? Dress? Hi-viz? Lycra?
Cycling to work or university can throw up a lot of questions for you and your wardrobe, but getting it right will make a big difference to how you feel.
Making sure you're comfortable and safe on your bike, while still feeling fresh at your destination can all be achieved with the right choice of clothing.
As Alfred Wainwright once said, "There's no such thing as bad weather, just bad clothes".
Being comfortable on the bike, whatever the weather
Staying comfortable while riding your work depends largely upon one external factor: the weather. Here in the UK, while you can assume it's unlikely to snow, you can certainly count on rain – even at the very height of summer.
A typical Summer's day is the easiest season to plan for. It's the best time of the year to cycle, and also the simplest on your wardrobe.
The key point to consider is keeping your body well ventilated. Breathable and lightweight clothing lets your skin breathe and wick away moisture.
For Spring and Autumn, you want to think about layering. The weather is likely to be more unpredictable, meaning you can quickly find yourself too hot, or too cold.
The best solution is layering. Meaning you can quickly adjust by adding or subtracting items of clothing along your way.
When Winter arrives, it's time to think about staying warm. Wind chill is something you'll feel sharply, so make sure you keep your extremities covered.
Wear gloves, warm socks or shoe covers, a buff, and a cap or headband to keep your ears covered. An insulated jacket will keep your core warm, and providing it's windproof, you won't feel those cold mornings.
That being said, it's important to avoid overheating. You'll still be sweating, especially towards the end of your cycle, and when sweat then cools on your body, you'll feel cold.
A good way to combat this is a base layer. Sitting close to the skin, it will help move sweat away from your skin, keeping you dry and comfortable.
Staying dry
To stay warm and comfortable on the bike, you need to stay dry. The best way? Good waterproof clothing.
If you're going to make one investment for your commute, it's a good waterproof jacket.
Look out for breathability, as otherwise you risk overheating. If it's packable, there's no reason not to take this with you on every commute (yes, even in Summer).
Sometimes it is unavoidable that you'll get wet. To keep your clean clothes dry, consider a waterproof backpack, or a waterproof cover. This will ensure your laptop, or other expensive electronic equipment, stays dry, even if you end up soaked through.
The value of technical materials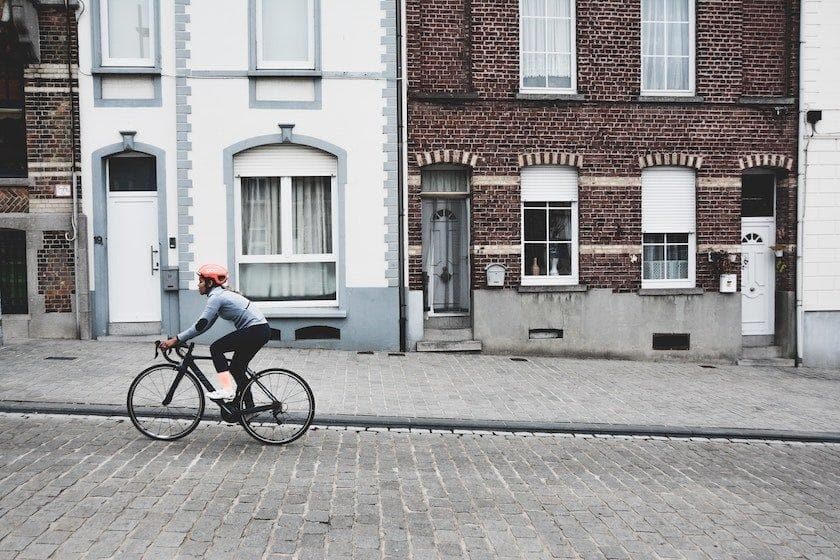 If you've ever tried to cycle in a woollen jumper with tight jeans, you'll know that choosing the right materials is important.
While some cyclists swear by jeans, there is a reason professional cyclists wear lycra. It's comfortable and allows for a wide range of movement, it doesn't flap in the wind, and it will sit close to your skin allowing it to breathe.
If lycra seems too much for you, then instead look for stretchy, comfortable materials. Instead of wearing your thickest, warmest sweatshirt, instead layer with a couple of t-shirts and looser items. This will prevent overheating.
Feeling fresh once you arrive
If your commute is anything longer than 20 minutes, then you'll know that to avoid offending your colleagues, you're going to need a shower.
Check to see if your office or university has showers, and if they do, work out the best time to arrive. When they're in high demand, arriving slightly earlier will mean you still have a chance to get ready for the day ahead.
If you don't have access to shower facilities, check to see if there's a gym nearby where you can freshen up.
If you're going to be showering at work, then it makes sense to bring a fresh change of clothes. It means you can dress specifically for your commute, without compromising work attire.
A top tip is to bring a week's worth of clothes on Monday, so that throughout the week you can travel lighter on your bike.
Visibility
For a portion of the year, you're going to be cycling in the dark. While the number one thing you need is a good pair of bike lights, you can help this further by wearing reflective clothing.
You don't need a full hi-viz jacket, but look for small reflective strips, whether on the back of your cycling shoes, helmet, rucksack, or jacket.
Wearing a helmet is a must in the UK. While in the Netherlands you might not see anyone commuting with a helmet, in the UK we've still got some catching up to do to make our infrastructure safer. So, look for a lightweight and well ventilated helmet that you'll barely notice you're wearing.
Panniers or Backpack?
There are different ways of carrying your laptop and other essentials. A backpack offers the simplest way. Most people already have one, and it offers a quick way to get your things off the bike. Adding a rain cover, which often come in high visibility finishes, means you can keep your electronics dry.
Panniers provide a second option. Attached to a rear, or front, rack on your bike, they mean you're able to carry more than a backpack. Plus, it means you won't get a sweaty back. Panniers do alter the handling of your bike, and it's always best to try and keep the load weight similar on both sides to balance the bike.
Planning Your Route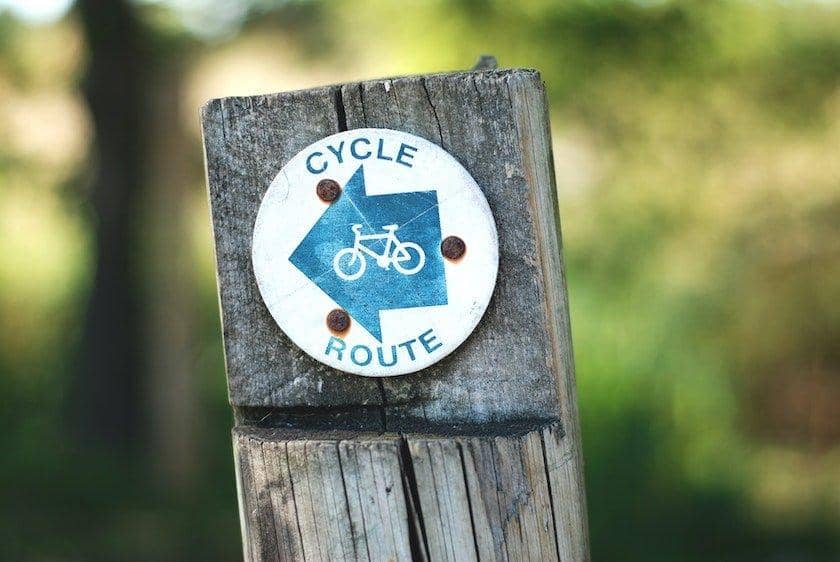 The last thing you want on your commute is to find yourself on a dual carriageway with lorries rattling past, or stuck winding through endless traffic.
Planning your commute properly, practicing it in your spare time, and taking it nice and slow the first time you try are the best ways to avoid this. Before you know it, you'll be wishing your commute was even longer.
Use a route planning app
The best route to cycle to work isn't always the most direct. It's important to consider quieter roads, away from traffic. Plus, the shortest distance could end up being riddled with traffic lights, busy sections of traffic, or potholed roads.
Google maps is a solid place to start, but many cycle specific route planning apps, such as Ride with GPS and Komoot, will plot routes using common cycle routes. For example, Komoot is crowd-sourced, choosing the routes suggested by fellow cyclists.
Once you've got it planned, it's worth checking out the route in your spare time. That way, you don't have to worry about getting to work on time, and you can make sure it's a comfortable route for you.
Find the cycle lanes
Cycle lanes are thankfully becoming increasingly common in the UK. It's by far the best way to get around the city, as you'll be with other cyclists, away from the traffic.
In London, the relatively new Westminster cycle lane is completely separated from car traffic, and since its installation has seen a rapid rise in cycle commuters.
So, look out for cycle lanes – it's often worth travelling the long way round to find them.
Keep experimenting with your route
While you might think you've found the greatest route to your office, there are always more options to explore.
If you've got time, try new roads to see if there's something you might've missed. Plus, it's fun to mix it up – you'll never know what you'll find.
Looking out for cars, pedestrians, and cyclists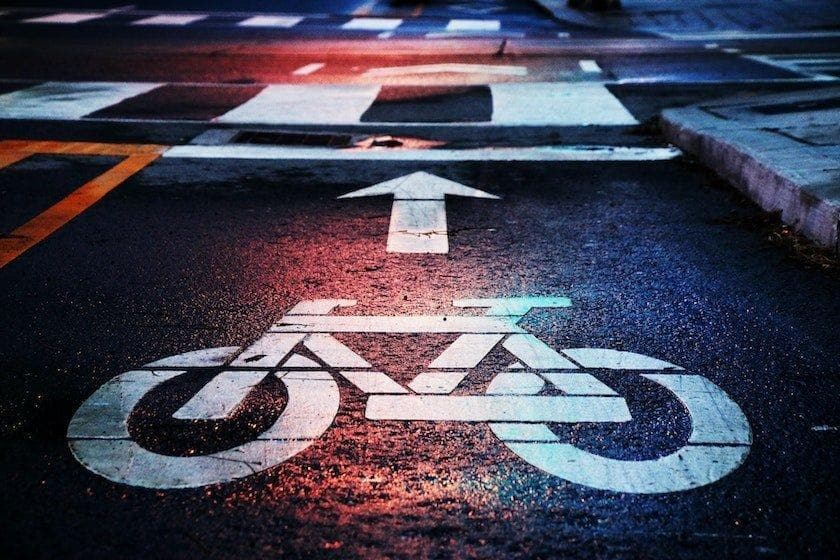 Navigating traffic, bus lanes, pedestrians, and even other cyclists can seem intimidating. There's a lot going on in rush hour. But, with the right know-how and experience, it becomes second nature.
Do I need to follow the Highway Code?
In short, yes. Even though the Highway Code is a mixture of 'musts' and 'shoulds', there is no good reason why cyclists should not obey it.
The rules for cyclists in the Highway Code suggest you should wear a helmet, light-coloured or fluorescent clothing, and reflective clothing in the dark.
You must have front and rear lights, and the code suggests to not use a flashing front light in street-lit areas – instead use a steady light.
Don't cycle on the pavement
There is a misconception that cycling on the pavement is safer than the road. This definitely isn't the case.
The Highway Code states that cyclists must not cycle on the pavement, under any circumstances.
Don't jump red lights
You might think it's commonplace for cyclists to run red lights, but it's against the law. The Highway Code states that you MUST obey all traffic signs and traffic light signals.
Even if the cyclist ahead of you runs the red, you should sit and wait. It is often the case that you'll be alongside them waiting at the next junction, anyway. There's nothing to gain.
You can read the full Highway Code for cyclists here.
Look after your fellow cyclists
With the recent rise in cycle lanes, as well as commuters use them, you'll often find yourself in a pack of other cyclists.
When in that group, remain patient and don't unnecessarily overtake. Make sure you use hand signals to let cyclists know if you're turning – hand signals aren't just to let cars know when you're indicating, they're useful for cyclists too.
How do I look after my bike?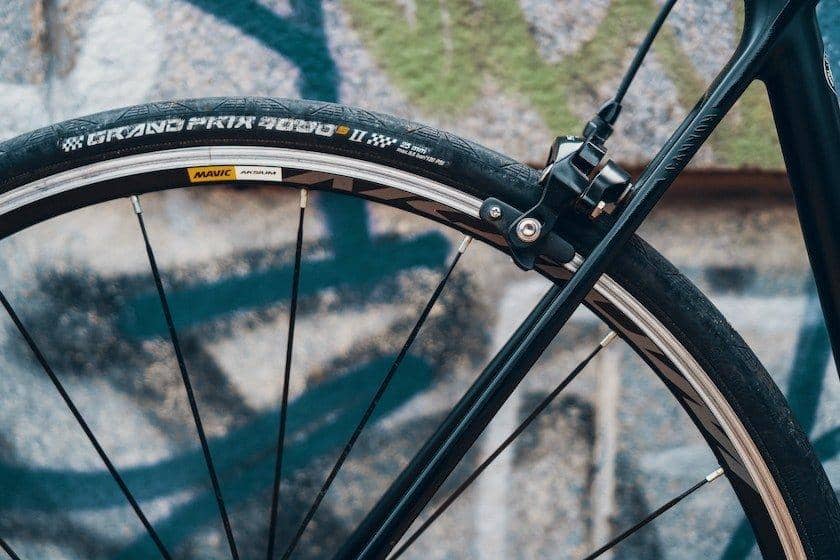 After a few months of commuting by bike everyday, you'll notice your weekly mileage rapidly increase. You might be getting fitter, but your bike may be struggling to keep up.
You don't need to be a professional mechanic to do the basic tasks, but it is recommended that you consult your local bike shop for the more substantial work.
Cleaning your bike
The easiest way to prevent wear and tear is to clean your bike regularly. You can perform a quick clean in just 5 minutes, and more infrequently a deep clean.
Cleaning your bike will get rid of any dirt that could end up getting into your bearings and wearing the drivetrain of the bike.
It doesn't take expensive bike cleaner, all you'll need is a bucket of warm soapy water and some degreaser.
Check tyre pressures regularly
Every time you leave home or the office, make sure to check your tyre pressure.
If it's raining, you should take some air out of your tyres. At lower pressures you'll create a bigger surface area for the tyre, giving you more grip.
Use lubricant
Regularly apply lubricant to your chain to keep your bike running smoothly, and prevent the chain from rusting.
In the winter, as it gets wetter, you can use wet lubricant to make sure less dust and dirt is attracted to the chain. In the Summer, dry lube is preferred by many riders, but find out which works best for the conditions you're riding in most frequently
Make sure your brakes are working properly
You should regularly check your brakes to check for general wear. It may sound obvious, but brakes are essential to keeping you safe on the road.
Brake pads don't last forever, and after a good few months of riding everyday you'll notice the brake pad starting to wear down. If you leave it too long you'll start to hear a squealing sound as the braking surface of the pad disappears completely.
For both rim brake calliper pads and disc brake rotor pads, you should be visually inspecting them for wear as regularly as possible. Other tell tale signs that they need replacing are if you're not stopping as quickly as you normally would, or if there is a lot of play in the brake lever.
Brake pads wear a lot faster in Winter with the extra grit and dirt, and disc brake pads are likely to last a lot longer than rim brake pads.
How to securely store and lock your bike
It's all well and good cycling to and from work, or to the shops, but only if you have somewhere to safely store your bike.
Cycle parking spots are turning up in more places, and you'll probably know the key ones for you.
But what's the best way to lock and store your bike?
Locking your bike safely
Unfortunately bike theft isn't uncommon, especially in major cities. There are, however, ways to prevent it happening.
A good place to start is making sure you lock both wheels, as well as the frame itself. You can use a cable extender to thread through your wheels. This is especially relevant if you've got quick release wheels which are easily removed.
If you can carry two locks, use two. U-locks are the most common lock type as they offer more security, with their rigid design. With double the locks, you'll make it that much harder for thieves to steal your bike.
Some more expensive lock options offer you a bike theft guarantee, too.
Additionally, make sure to remove any lights, bike bags, or other easy stolen accessories from your bike when you lock it.
Where should I lock my bike?
Many commuters are lucky enough to have secure cycle storage facilities at their office or university buildings. If yours does, then make sure it's got proper key access before you leave it there without a lock.
Even so, using your lock in a secure facility will give you added protection.
If you're locking your bike publicly – either going to the shops, or for your job – look for busier places with plenty of footfall.
Making sure it's well-lit and in sight of CCTV will not only detract thieves, but will provide camera footage and witnesses if it is stolen.
Insurance
If you've got a more expensive bike, then insurance will put your mind at ease when it comes to locking your bike on the street.
There's plenty of bike specific insurance out there for expensive bikes, but your home insurance should cover you for your everyday bike.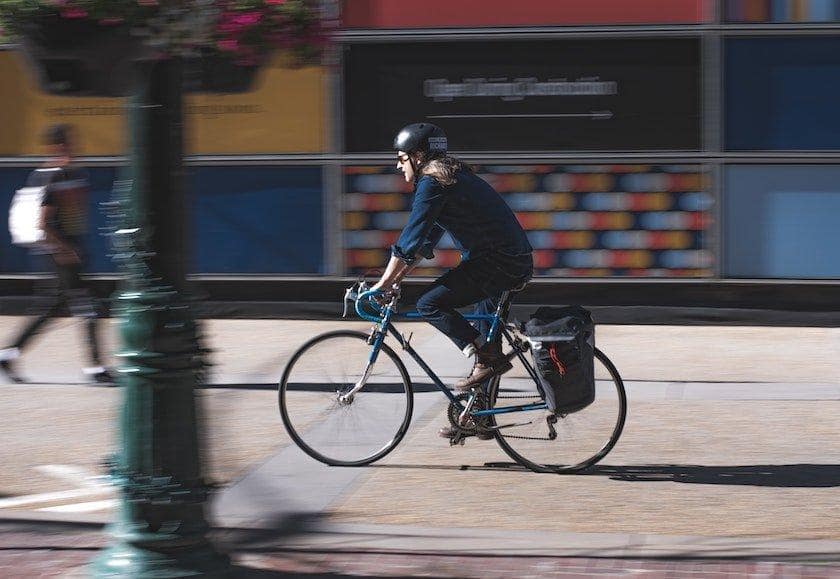 Enjoy the ride!
Above all, commuting by bike is enjoyable. Give yourself time, enjoy the freedom, and the benefits are endless.