Folding bikes come in many guises, but here in the UK – and increasingly worldwide – the Brompton is the quintessential folding bicycle.
Why? Put simply, no other bike folds up as compactly or rides as smoothly, with its design representing the original 'folding bike' silhouette.
This is reflected in sales which have been growing year on year, and during the pandemic underwent an unprecedented boom. 
And while other leisure bike sales begin to reverse post-Covid, Brompton expects continued growth owing to cities around the world turning to active travel to solve air pollution and climate crises.
Doubling their employees from 400 to 800 over the last five years, plus investment in AI machinery at their Greenford factory, means Brompton now produces 100,000 bikes per year.
With planning permission in for a new HQ in Ashford, Kent on floating stilts, the company hopes to raise this to 200,000 units per year, and grow its staff to 1,500.
The compact benefits of Brompton folding bikes
There is, of course, a reason behind the growing demand for Brompton style bikes in the UK. And that has mainly to do with both public transport, commuting habits, and cycle storage.
Take for example the Netherlands, where a typical intercity journey would involve cycling to a train station on a Dutch-style bike, parking your bike in a vast multi-storey cycle park, boarding the train, and then likely renting a government backed hire bike on the other side.
Contrast that to the UK, where instead you are more likely to carry bicycles onboard trains – both because of the lack of secure cycle parking, the still developing cycle lane infrastructure, and the more sparsely available rental bike schemes. 
It is on trains and buses where having a folding bike really makes all the difference. You no longer have to reserve a crowded bicycle space, rather, you can neatly fit the bike into the luggage racks.
This benefit extends to home storage, where in the UK there is a real shortage of places to store a regular sized bike. By comparison, Bromptons can be tucked away with shoe racks, and more conveniently carried within lifts and through terrace houses.
They work best in urban areas where the regular sized bicycles are too cumbersome to store, and public transport trips are frequent. With more and more cities turning to active travel to address the climate crisis then, it seems to make for a perfect match.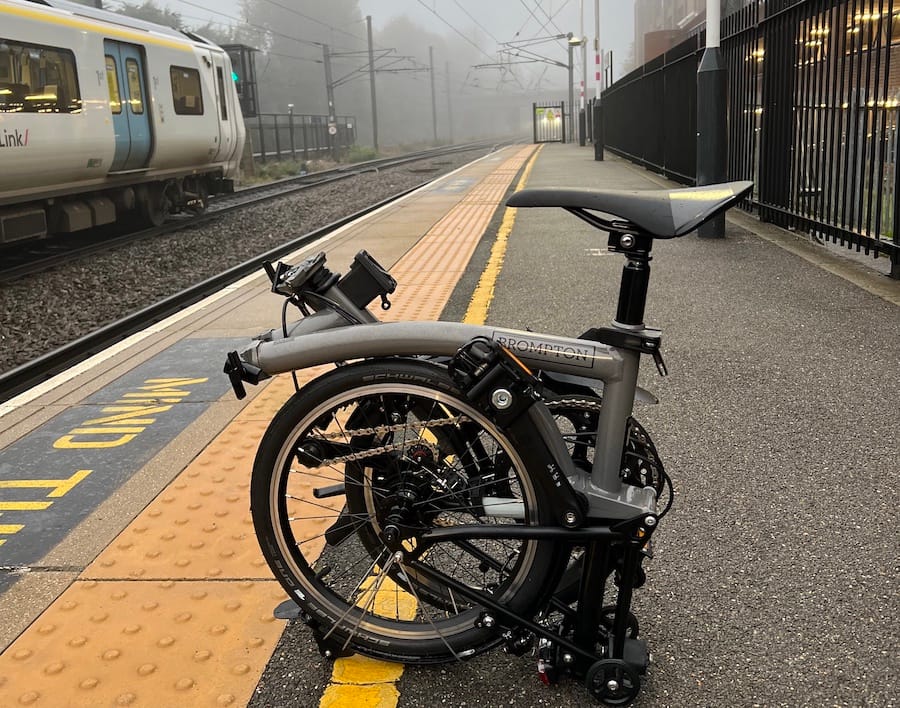 Image credit: Brompton bikes work seamlessly with the UK train network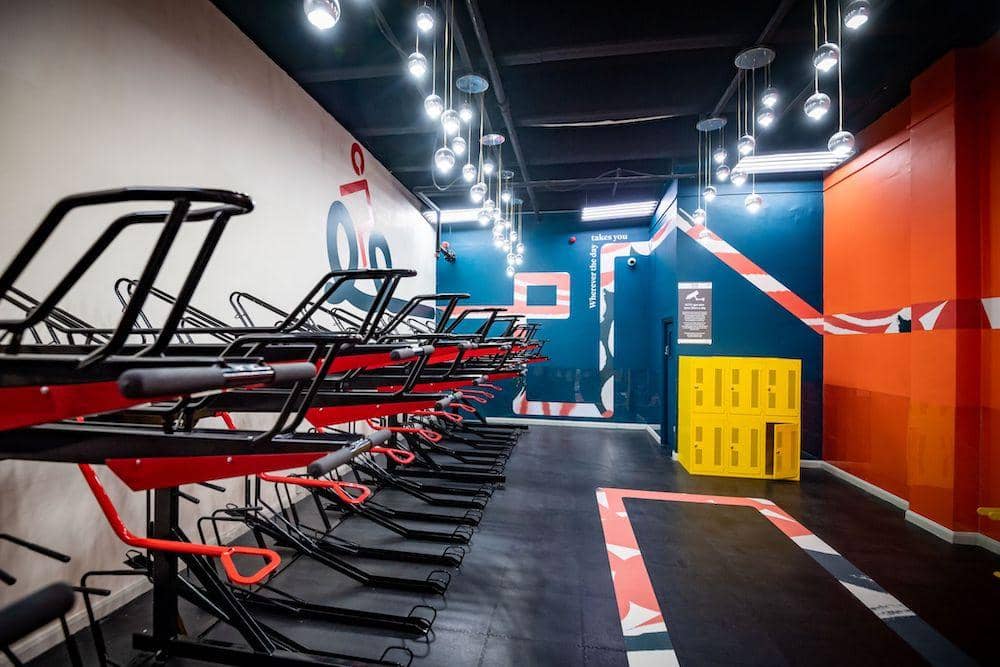 Image credit: Folding bike lockers as seen at Ealing Broadway shopping centre public cycle parking facility
Folding bike storage and parking: Brompton lockers
Turning to public and workplace cycle parking – a vital part of encouraging active travel – folding bikes have the upper hand compared with other bicycle types of being naturally easier to store, with a more compact footprint and better manoeuvrability.
Their achilles heel however, is weight. Ultimately it is very unlikely you'll be willing to carry the bike up too many flights of stairs, or navigate crowded offices day-to-day. 
And for supermarkets, leisure centres, libraries, and public buildings, it is not as simple as folding your bike and taking it with you – you'll still need to securely lock the bike.
The best folding bike storage solution comes in the form of dedicated modular Brompton lockers. They take up little space compared to regular cycle parking racks, with a depth of just 65cm, and owing to the folding bike's compact design, loading distances required are also much smaller.
Designing your bike store or cycle parking area with folding bike lockers can raise the total capacity throughout the facility. By fully utilising the compact footprint, you are leaving more traditional rack space for other regular sized bikes, and offering a much neater solution for Brompton users.
Adding the finishing touches
Folding bike lockers can be arranged in single, double, or triple height stacks, with an unlimited modular capacity meaning you can extend the row to accommodate as many spaces as required.
Choosing the right locking system for the lockers depends largely on the wider context of the cycle parking, its location, and the way the building is used. 
For workplaces, digi-code locks or RFID locks are ideal for staff, whether that's providing the code or integrating with an existing keycard system.
In typical public buildings like leisure centres, shopping centres, or libraries, a hasp & staple or key-turn lock means you can either have users manage keys, or use their own padlocks.
With a range of standard RAL colours, plus additional bespoke colours on request, Brompton lockers can also complement and enhance any colour scheme or building branding.
For more information on our range of folding bike lockers, simply get in touch with our team, or visit the product page and download our data sheet.