Office buildings built with basement storage provide an ideal solution for dedicated workplace cycle parking and active travel facilities for tenants.
While there is the natural benefit of security and cover, the value of having a well designed active travel facility can't be overstated. Helping future proof the building, and therefore continuing to attract new tenants for developers is vital. 
That's because as active travel take-up rapidly increases, employees are looking for–and demanding–improved End-of-Trip facilities. 
Businesses, too, are recognising the benefit of active travel promoting a healthier and more productive workforce. Proper facilities help encourage that active travel take up.
To get the maximum benefit from basement space, you'll need to consider:
Meeting capacity requirements

Accessibility

Integrating cycling with other active travel facilities

Creating a welcoming environment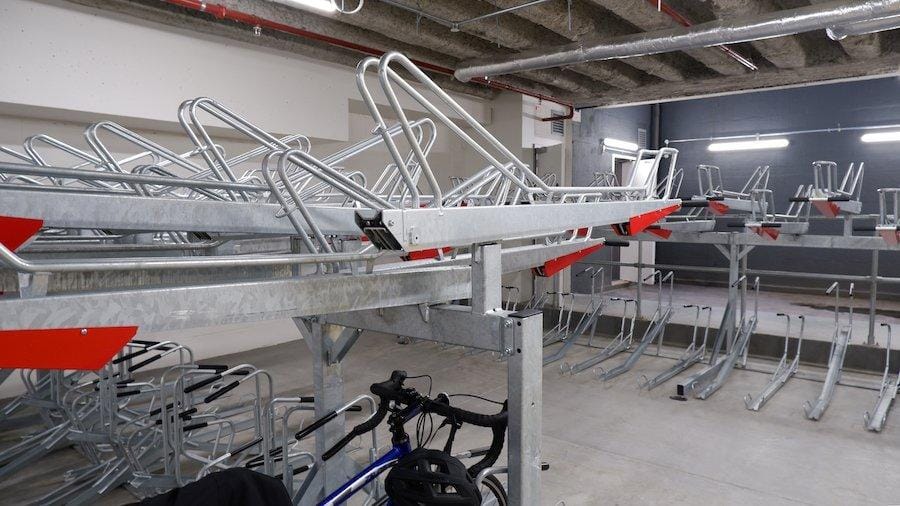 Bike racks: Two-tier or single tier?
Your first priority is likely ensuring you meet demand, both now and in the future. To hit those capacity requirements you'll need the right combination of bike racks and stands
Two-tier racks are highly space efficient, allowing you to securely store more bicycles within one secure area.
For two-tier bike racks, you will require:
2600mm ceiling height

1800mm minimum loading distance
Other options to consider are semi-vertical and wall or frame mounted vertical racks. Both decrease the footprint of the bicycle envelope, allowing efficient storage. 
However, in every facility you should consider a provision of Sheffield stands for non-standard cycles. Designating these correctly with signage ensures they will remain for those who require accessible cycle parking.
Integration with other active travel facilities
Active travel facilities aren't just about parking and storing bikes. Lockers, changing rooms, drying rooms, and bike repair stations all help to improve the experience of the end user.
Making sure these are integrated with bike parking is what makes for a best-in-class facility. Look to provide functional navigation from bike racks through to changing rooms, putting the user at the forefront of the design.
Bike repair stations are simple to include and make a big difference to any cyclist. They also stand as a testament to the building's commitment to active travel.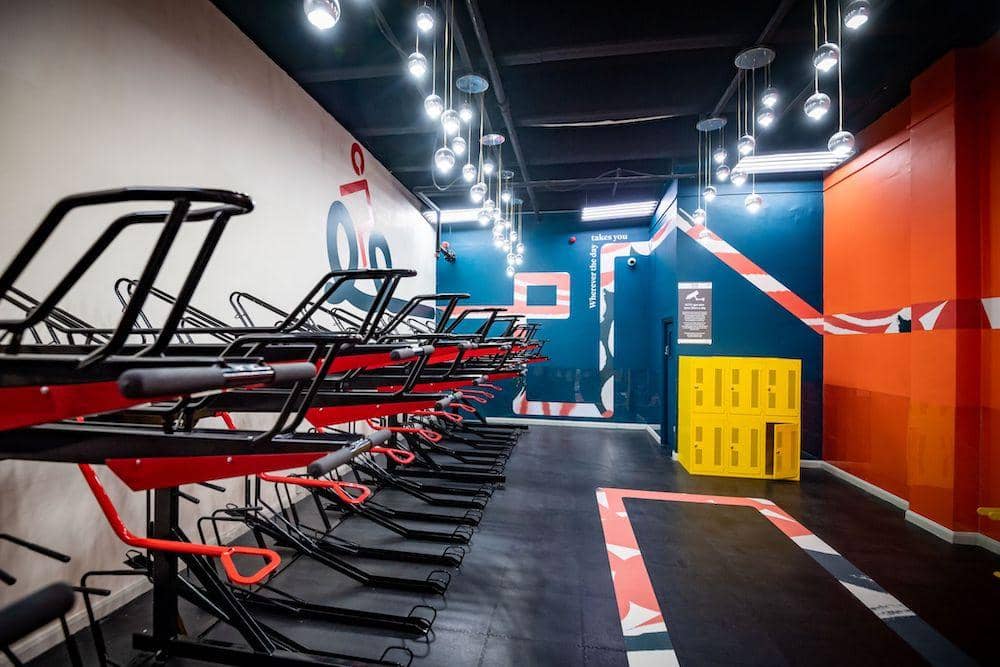 Creating a welcoming space: Wayfinding and colour
Wayfinding and graphics help transform grey basement areas into welcoming spaces for tenants.
Basements are lacking in natural light, but adding vibrant splashes of colour proves they are spaces that are rewarding to those choosing the active travel option.
Alongside painting walls or applying graphics and murals, you can add colour with folding bike lockers and repair stations–both of which are available in a wide range of RAL colours.
Wayfinding helps with navigating corridors and can help filter users through to lockers and changing areas, as well as pointing people to repair facilities and other End-of-Trip provisions.