Green living roofs use plants and vegetation as an exterior layer for a section of roofing, usually on flat roofs. That's the state-the-obvious explanation, at least – but what makes them so great?
Although a relatively new idea for our built-up urban spaces, the idea is actually as old as the Hanging Gardens of Babylon, c.500 BC.
The most commonly used plant today is sedum, that's due to a variety of benefits the plant has, including:
Low maintenance
Contribution to improving urban air quality
Habitat for birds and insects
Absorbing rain water, better stormwater management
Protects roof from UV, extending its lifespan
Reduced risk of fire spread
Improved aesthetics
You'll find sedum roofs on various structures – from bus stops to much larger roofing sections. All can benefit from a green roof, but it's bike shelters that make a particularly fine match.
Turvec's Cubic shelters can be fitted with green living roofs, which come in the form of sedum cassettes. We think they're a worthy addition to any shelter, and here's why.
The qualities of Sedum
The word "sedum" derives from the latin "sedeo", which literally means to sit. Sedum is a shallow rooted plant, and unlike other green roof options, only needs a shallow bed to "sit" on.
Sedum plants are naturally drought tolerant, which makes maintenance simple. That's a good thing, as getting up and onto roofs to water plants definitely isn't practical.
The roof won't need mowing and you won't have to chop off deadheads. Basically, it will 'live' by itself.
Sustainability
Like any plant, sedum will help remove CO2 from our atmosphere: improving air quality and contributing to the lowering of greenhouse gases.
But the benefits go even further. Supporting wildlife like bees, butterflies and other important insects is important in urban areas. Sedum roofs are a great way of supporting that ecosystem which struggles in urban areas.
For bike shelters, they're surely an ideal sustainability match. Both are good for the environment, and both help make city air cleaner, even helping with noise pollution too.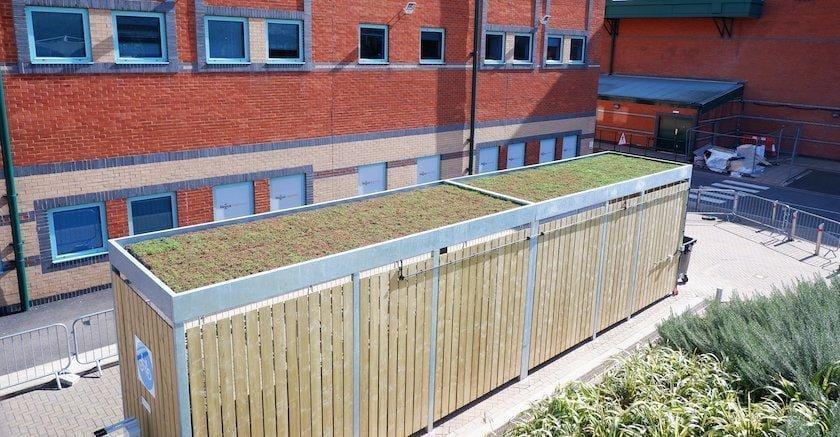 Green roofs in action
So what will a sedum roof actually look like? You might think people rarely see roofs, but for high rise residential buildings and offices, looking out your window and down onto a sedum roof can make all the difference.
As mentioned, they're great for drainage, with the sedum absorbing rain water and allowing it to run off slower, holding up water run-off and aiding storm water management. It's basically a natural drainage system.
Including a green roof on an exterior bike shelter can help boost the green credentials of a development. They're welcomed by staff and residents and help add much needed greenery to urban areas.
The practical benefits of a sedum roof are extensive, but add that to the fantastic looks, and they've got a lot going for them.
We can include green sedum roofs for all of our Cubic bike shelters. Find out more on our product page here, or get in touch with us directly.