Cycle shelters provide cyclists with secure and weatherproof storage for their bikes, promote and encourage more commuters to ride to work, and minimise abandoned and stolen bicycles.
The Turvec Cubic is a cycle shelter that comes in different forms, finishes and sizes. It's a highly customisable cycle storage option that can accommodate any number of parking spaces.
Here's a lowdown of the Cubic, its functionality, finishes, and features.
Dimensions
The size of the Cubic is the first thing you need to consider. The height and width of the shelter will dictate what racks can be accommodated. This choice depends on a) the space you have available for the shelter, and b) the number of bike spaces you need to provide.
Generally speaking, two-tier racks increase the number of parking spaces, for example. This will require 2600mm internal clearance, resulting in a total shelter height of 3000mm.
Our standard 2400mm shelter heights, on the other hand, suit semi-vertical racks and other height-friendly cycle racks.
George, Commercial Director at Turvec: "Understanding the function of the Cubic informs our recommendation on size. A Cubic shelter with two-tier racks can provide high density parking spaces. It's a common choice for larger shelters where maximising capacity is the main requirement."
Gates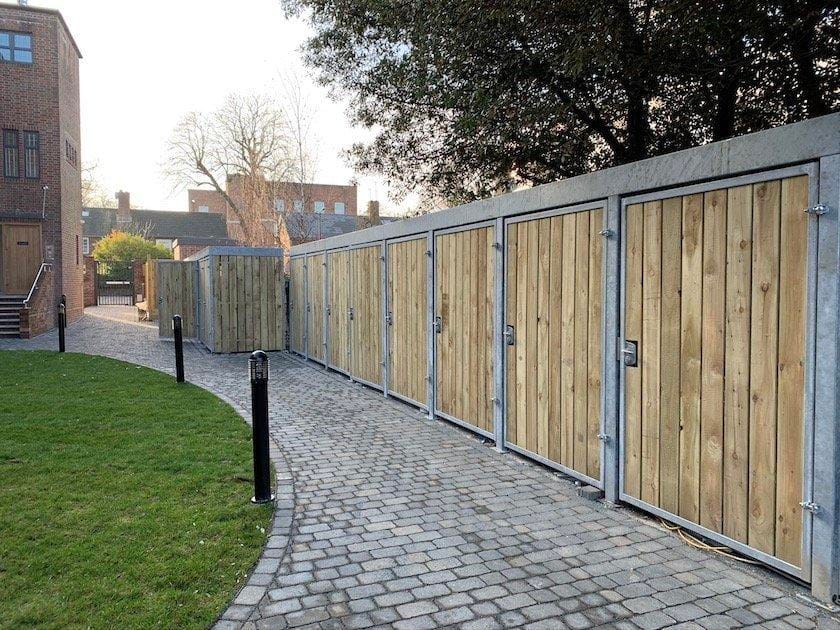 Cubics can be open fronted, offering quick and easy access for public spaces. But for added security, a Cubic will require gates.
If positioned directly in front of racks, posts will be required around every 2000mm to hang the gates. This does create a break in the run of cycle parking, meaning to increase capacity the size of the Cubic may need to be increased.
"Adding gates ultimately depends on whether secure-access is a priority," George says. "Our design team ensure the optimum layout is achieved, depending on the site constraints and number of spaces needed. A nice example of this can be seen at Abbeville Place in Clapham."
Four different finishes
Timber Cladding
Timber cladding is the most popular option for Cubic cycle shelters. Treated softwood timber is the standard. It's sustainable, easy to work with on site and provides a good looking light timber shade finish.
Hardwood and other finishes are also available, which can provide a darker wood finish. These, however, tend to be more expensive, and if treated incorrectly will age with an off-grey colour.
"Timber cladding is a great looking option," George says. "Last year, we installed a large 14m timber clad Cubic in Feltham, housing over 100 bikes – it's ideally suited to that development."
Mesh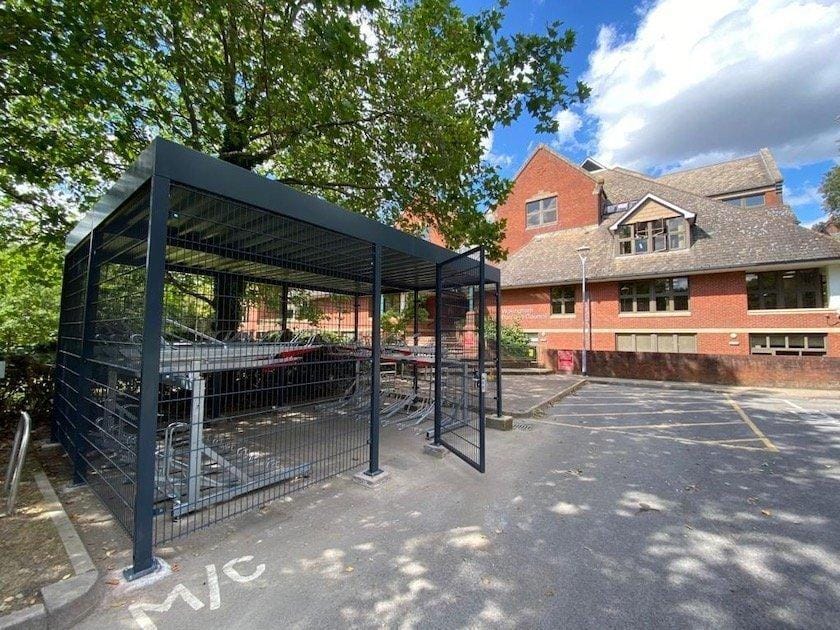 Mesh provides high-security cage panels which offer good ventilation and a long lifespan. The mesh can be galvanised or powder coated.
"It's a cost-effective option for many of our clients," George says. "Paired with a locking system, it provides a functional, secure-access cycle store. We recently completed a mesh cubic in Wokingham for the local council."
Steel profile plate
Cubic shelters can also be enclosed with profile plate steel panels. This gives the greatest opportunity for customisation, branding and graphics. A corrugated finish is recommended to ensure maximum rigidity.
Glass panels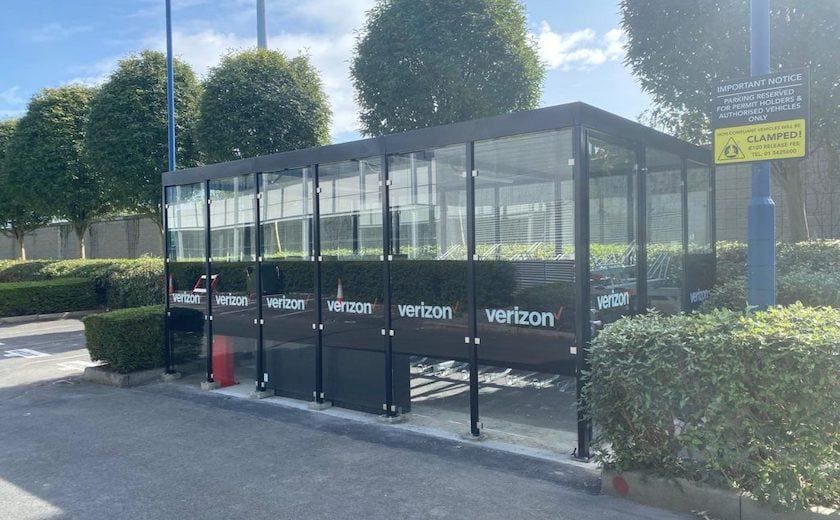 To create a high-specification cycle hub, a bespoke structure with glass panels offers a premium finish.
"Earlier this year, Verizon asked us for a bespoke cycle shelter for their Dublin offices," George says. "We included kit lockers and a bike repair station, alongside our two-tier bike racks to create a state-of-the-art cycle hub."
Roofing
The Cubic roof has powder coated steel roof sheets. These are durable and extend the lifespan of the cycle shelter.
Additionally, sedum or living roofs can be incorporated into any of our Cubic cycle shelters. A sedum roof sits behind the external flashing on the roof and requires additional structural supports to ensure the shelter can bear the weight of the system.
We use a cassette based sedum system designed to work in the standard sizes of our roof structure.
"Generally, standard cycle shelter roof sheets are made from steel or polycarbonate," George says. "We offer powder coated steel roof sheets as standard. This provides added durability, and when paired with a sedum roof, it looks great, too."
Drainage
Most commonly, the Turvec Cubic features a flat roof design. Integrated drainage is incorporated in the roof and leg structures, which removes the need for external guttering, providing a clean finish.
Access & Security
The Cubic can be installed with a variety of different lock types. Choosing the right one for your Cubic depends on cost and suitability to the location.
Coded padlock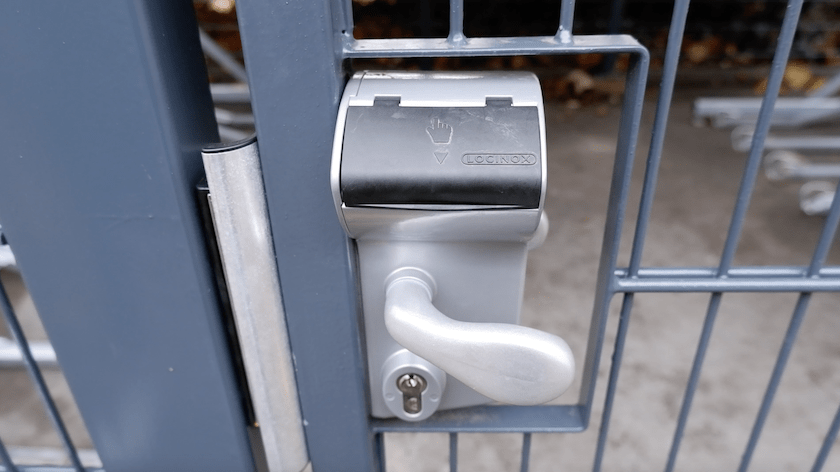 As standard we will specify a hasp and staple suitable for a coded padlock on our shelters, this is both cost-effective and easy to manage once installed.
Key turn
If the allocation and management of keys is a practical option, a locinox lock and key unit with a handle is a secure and easy to install solution.
Keypad lock
An alternative to key turn locks.
Mag locks
For RFID or electronic access mag locks can be incorporated into our shelter gates.
Watch a video of our Wokingham case study below, or find out more information about the Turvec Cubic here.