End-of-trip facilities are dedicated active travel facilities. They are services dedicated to those cycling, walking, or jogging to a destination, as opposed to driving a car or taking public transport.
This, at least, is the simplest definition. The reality is that End-of-Trip facilities need to be well thought-out and designed to have the desired positive benefit.
It's all well and good increasing bike parking capacity, or providing some lockers, but how these are integrated into the building, plus the quality of facilities, is often what counts.
We've taken a look at some of the most common End-of-Trip facilities, including the good, the bad, and you guessed it, the ugly too.
Done right, businesses are able to encourage more of their staff to use modes of active travel, which have been shown to boost employee wellbeing and reduce environmental impact. And so continues the virtuous cycle of furthering active travel.
Poorly implemented facilities can function as a deterrent, leaving frustrated employees turning instead to their car or the bus.
What amenities are commonly included?
Cycling, walking or jogging to work creates problems not commonly encountered by driving. It becomes about more than just providing a parking space.
You'll likely want to freshen up before that intense meeting, even if it is on Zoom. Or perhaps change in or out of your cycling and jogging gear.
End-of-Trip (EoT) facilities usually include:
Showers
Secure bike storage
Dedicated changing space with gender split
Bike Repair Stations and Pumps
Kit lockers
E-bike charging
Electric scooters or pool bikes
Folding bike lockers
Vanity units
Airing stations
Towel service
Cycle storage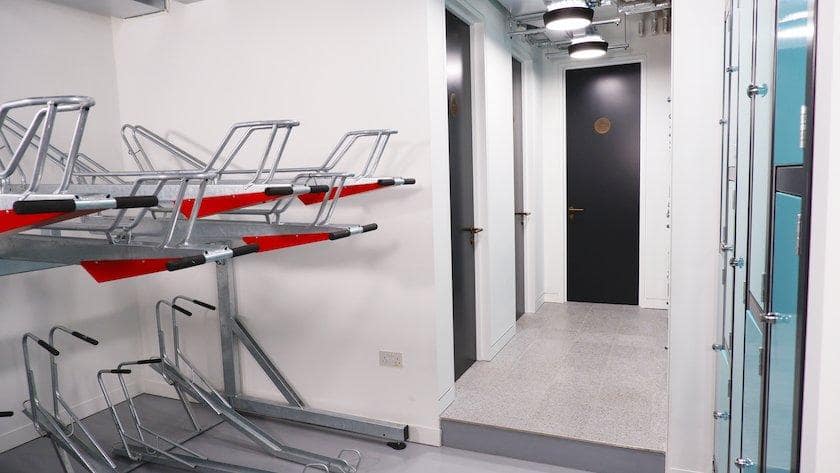 Photo: Two-tier bike racks, showers and kit lockers
Bike parking is a key part of EoT facilities. Without it, employees or staff will be left chaining their bike to railings outside, or worse, opting not to cycle at all.
Including a variety of racks and stands is the best way to ensure you meet the differing needs of cargo bike users, folding bikes, tricycles, and adapted cycles.
So, using higher density racks such as vertical and two-tiered systems to maximise spaces, while still offering Sheffield stands to accommodate non-standard bikes.
The situation you want to avoid is leaving some cyclists without anywhere to securely lock their bike. What's worse, is that some older or lower-quality bike racks can scratch or harm bicycle frames.
In the best cycle stores, the racks and stands will all be of a cyclist-friendly quality, with enough locking options for everyone.
Adding bike repair stations and pumps is another cost and space effective way to give extra services to cyclists. It also helps prevent the build up of abandoned bikes with flat tyres or mechanical problems.
Showers, kit lockers and changing rooms
Photo: Kit lockers provide valuable storage space for a change of clothes
A secure place to leave your bike is essential, but as mentioned above, EoT facilities can and should offer a lot more than that.
The highest specification facilities, for instance, will offer showers with private changing facilities, and a hotel-style towel service. You'll have your own sink, hangars for your clothes – basically an extension of your home bathroom.
That level of quality, however, is relatively uncommon. More likely most modern offices will offer basic shower services, with some having a more premium feeling finish than others.
Kit lockers, unlike showers, are easier to provide. They give cyclists, runners and gym-goers a level of separation from desk and travel. You can store your activewear and accessories near your bike, before making your way up to your desk.
Going that extra mile
The idea with all these amenities is to make the lives of cyclists, runners and walkers easier and more comfortable. Landlords, property developers and property management companies recognise their high value for attracting tenants.
And for employees and staff, the better facilities get, the likelihood of cycling through the winter and rain increases. That means retaining the benefits of better employee wellbeing all year round for the business in the building.
New developments are ensuring that facilities are future proofed, hence the more recent inclusion of charging and docking stations for e-bikes and e-scooters.
Designing End-of-Trip facilities will always vary depending on space availability and the purpose of the building or business, but the plans should always focus upon the end-user, rather than box-ticking.
For information on our comprehensive design consultancy service, get in touch via Turvec Studios.