We know how bicycle storage facilities can encourage can help businesses encourage their employees to cycle to work, but what about our hospitals?
Well, the benefits are the same – it is a workplace, after all. The problem for healthcare facilities and other public buildings, such as libraries and leisure centres, is separating visitor from staff parking and therefore creating safe and secure storage.
We saw this issue while working with both Kingston Hospital and Cromwell Hospital. Both are busy, high footfall places – as you'd expect with hospitals – and creating the right space for cycle parking can be tricky.
Here's what we learnt from our work, and how these storage solutions could be rolled out to more hospitals in the UK & Ireland to help encourage more staff to cycle to work.
Secure staff access is vital
The importance of secure access for those cycling into work can't be understated. Bike theft is a major factor preventing many from cycling, especially in bigger cities like London.
Last year the London Cycling Campaign (LCC) highlighted the inadequacy of some bike parking in central London following rising numbers of stolen cycles.
In 2020 the LCC said 800 NHS and other healthcare workers had signed up as campaign members, saying:
"We need more secure cycle parking at hospitals and other health and care premises, particularly in inner London. Everyone who works in the care sector should have a safe place to keep their cycle while at work, and there also must be ample storage for visitors, including people using larger cargo cycles and tricycles."
This was a problem being faced at Cromwell Hospital, with instances of bike theft and growing number of near-misses. Johnny Cunha-Santos, facilities manager at Cromwell Hospital, said:
"We were having problems with visitors using what was supposed to be staff only storage, meaning that staff often couldn't park their bicycles. This was frustrating for employees and ultimately caused delays to the running of the hospital.
"But above all, we had several close calls with bike thefts and unfortunately a couple of stolen bikes."
Working with the Hospital, we designed and install secure caging and new bike racks to both maximise capacity and provide gated access for staff.
"The caging has stopped all cases of theft so far. It has also guaranteed we can keep the facility for staff using the gated keycard access," said Johnny.
It's a relatively simple solution that offers a far superior level of security. In turn, staff are more motivated to ride to work knowing that they'll have peace of mind their bicycle is safe.
Similarly, at NHS Kingston Hospital, a 78 capacity timber cycle shelter was installed in the centre of the hospital complex. Again, staff access via their personal keycard meant the shelter could be locked for vastly increased security.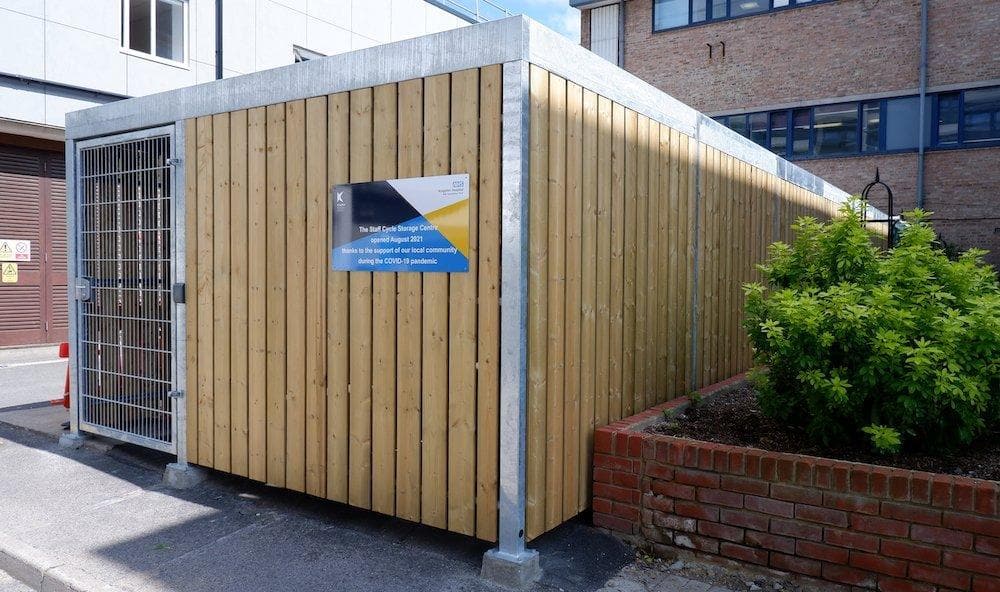 Image credit: Timber cycle shelter at NHS Kingston Hospital
Keeping visitor parking accessible for all
It's important to remember that short stay visitor parking needs a high level of security too. Keeping the area well-lit and monitored by CCTV, as close to the main entrance as possible, will help reduce the risk of theft.
These two facilities can either be kept separate, or for certain cases access codes can be granted to visitors at reception to the gated shelter.
Visitor parking should always contain designated accessible parking for non-standard cycles and cargo bikes.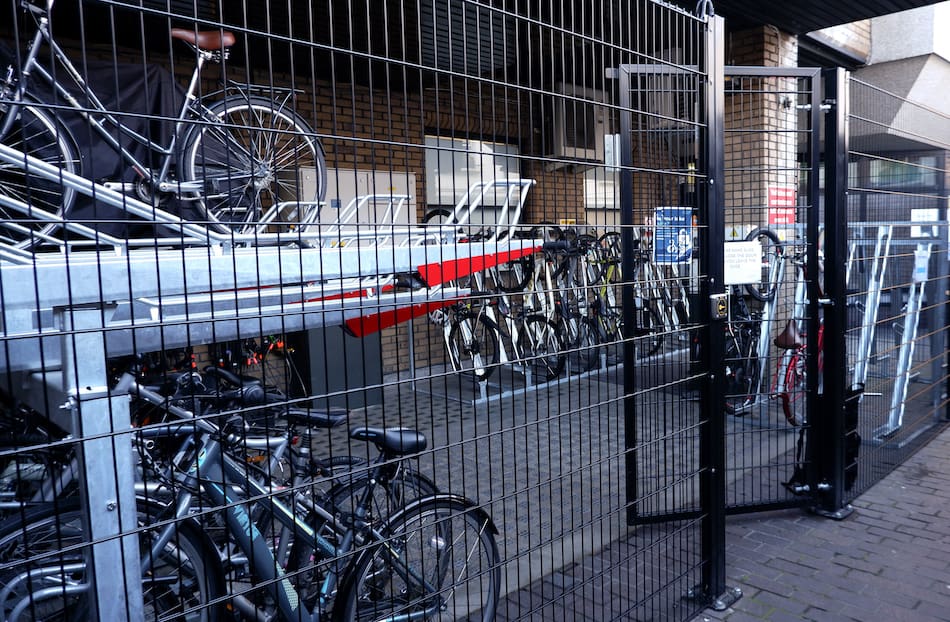 Image credit: Cromwell Hospital's secure cycle caging solution
Increasing Capacity to meet future demand
Once secure cycle parking is in place, you are likely to see an increase in staff cycling to the hospital. Ensuring that capacity accounts for future demand is important.
Johnny Cunha-Santos, facilities manager at Cromwell Hospital:
"Previously, the parking was always at full capacity. If one person incorrectly locked their bike it would mean others couldn't always store theirs.
With the new racks, we've doubled the amount of spaces meaning there is more than enough room for all staff."
With many hospitals, especially those in urban areas, contending with limited space and expanding healthcare buildings, space-efficient storage for bicycles is a must.
Both two-tier storage and semi-vertical racks are good examples of how, without expanding total footprint, parking spaces can be increased.
At Cromwell Hospital, toast racks and butterfly wall racks were used previously. By adding semi-vertical and two-tier racks, capacity was increased from 27 to 50.
Image credit: Semi-vertical parking at NHS Kingston
Keep parking welcoming and front-of-house
Cycle parking, we believe, should reflect the same level of quality as any building. A poor quality shed next to the bins is unlikely to give confidence to staff that cycling is a priority.
On the other hand, with well-built cycle shelters and user friendly racks, Hospitals and other institutions can proudly welcome more of its staff to cycle.
As echoed by Johnny Cunha-Santos at Cromwell, the right cycle parking feeds into promoting good health and wellbeing for staff:
"We have strong sustainable values at Cromwell Hospital. Making sure we have good cycle parking facilities was important not only for green credentials, but also to promote healthy fitness for our staff."
Making sure these facilities are welcoming through good quality signage and wayfinding, plus correctly lighting shelters and adding CCTV all help to serve this purpose.
Feel free to talk to our team for more information on how we help with designing and installing bike storage solutions.