How many pairs of socks do I take? What tools am I packing? Do I need to cut off the handle of my toothbrush?
It's a daunting task trying to work out what stuff to strap to your bike – even for a simple overnighter, nevermind week or even month long trips.
Overpack and your bike becomes unwieldy and you wonder why exactly you have that smart shirt. Underpack and you'll risk calling for a taxi stranded with a snapped chain.
Knowing exactly what to take on a bikepacking trip is something you'll learn over time – what clothes you prefer, your sleeping setup, the perfect multi-tool – but there's lots of great tips and lists to get you off to a great start.
To write this piece, we've leant on a recent Turvec overnight trip (photos included) to provide some real-world tips from experience.
Bags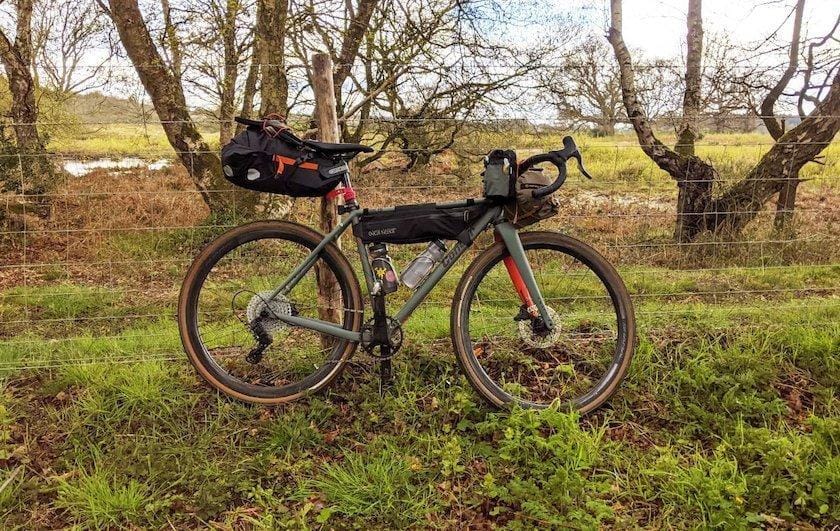 Having a gear list is one thing, but carrying it is another.
It's up to you how exactly you carry your gear, but bear in mind your total bag capacity may limit what you take.
A traditional rack and pannier set up is usually recommended for long trips, where you'll need the extra capacity and ease of packing.
The more modern 'bikepacking' style is using the combination of a saddle bag, frame bag, and a handlebar bag. It's more aerodynamic and doesn't require a rack. You'll need a light-weight and minimal set-up to make it work, which puts more emphasis on getting the right gear list together.
Recommended budget options are bags from UK based Alpkit. The more costly, but arguably better quality bags you can start by checking out Apidura and Ortlieb.
You could even try sewing your own, or looking for smaller makers on Etsy.
Where are you going? What's the forecast?
Before you think about what to take and how to pack it, you need to establish where you'll be going and what the weather is going to be doing.
Getting a decent idea of the conditions is really going to help inform what clothes, sleeping bag, and other extras you might need.
The route will help dictate how much food you'll need to bring. In general, the more remote the more you'll need to stock. More civilisation = more cafe stops.
Once you know where and when you're going, you can start to break down what exactly you'll need by separating your gear list into four overarching categories.
1. Sleep system
Alright, 'sleep system' is a pretentious way of putting it, but that's because there are different methods for camping out overnight. Somehow, 'sleep system' works.
Of course, one option is to book hotels or BnBs, in which case you needn't worry about this section other than bringing something comfy to sleep in.
But to really embrace the outdoors, you probably are thinking about sleeping out. The four main ways of doing it are:
Tent
Bivvy bag
Tarp
Hammock
They all have their pros and cons. In general, tents are most popular, but also the heaviest and bulkiest option. Some swear by bivvy bags, with their easy set-up and low weight, but you will sacrifice on comfort.
A simple tarp set-up is a compromise between the two. Improved weather protection of a bivvy, but still not the same coverage as a tent. Hammocks are another lightweight option, but will require trees or somewhere to hang from.
You might already have a favoured sleep system, but whichever you use having a good quality sleeping bag is essential. Be realistic with temperature comfort limits and don't risk using a lighter summer bag out of the warmer months.
Unless you're in a hammock, having a good quality sleeping mat is as important as the bag. Look out for a good R rating that will give you year-round comfort.
2. Tools, Electronics & First Aid
These crucial items usually add up to a relatively small, but heavy package. It's common to keep them in your frame bag, where centering the weight on your bike will improve handling.
It also makes them easy to access, which is essential as when you need to use first aid or inner tubes, you need them quickly.
Make sure the multi-tool you bring has everything you need for your bike. Some include a chain tool, but if yours doesn't you can carry one separately. Be aware that you'll need a space master link to make those repairs.
If you're running a tubeless setup, taking tyre plugs and extra sealant is essential for longer trips, and you'll want a back up tube just in case. Bringing some patches and a tyre boot won't take up much space, and gives you extra protection should you get really unlucky.
Depending on how far you're going, it's worth taking spare cleats, spokes, and a rear mech hanger if you're going off road. They're all easily bent on rough terrain and provided you know how to fix, can keep you going in a pinch.
Always take lights, even if you don't plan on travelling at night. Things don't always go to plan and you may need to keep going through the evening to get to your destination.
Zip ties and gaffa tape are perfect for all manner of bodges. You can wrap tape around your mini-pump to save space, and always take more zip-ties than you think you'll need…
Multi-tool
Mini-pump
Spare chain links
Spare cleats
Puncture repair and tubes
Charging cables
Power bank
Lights
First aid kit
Zip ties
Tape
3. Kit & Clothing
Clothing is a hard one to get right, but we'd recommend taking just a few items that do their job right.
That means a fully waterproof, but packable, jacket. Gore-tex is expensive but will keep you sweat free and dry at all times.
A lightweight down, or synthetic down jacket, will give you a good layer for cool mornings, and also works for cold nights in your sleeping bag.
Comfortable bib shorts or shorts are absolutely essential, and if you're going for more than a couple of nights, bring a spare pair.
Taking a merino base layer will keep you warm in the colder months, and cool in the warmer months. Plus, it tends not to smell.
Be sensible with off-the-bike clothes, and try to plan exactly how often you'll be wearing them.
Toiletries wise, a toothbrush is the main essential to keep you feeling fresh. It's true that ultra-distance racers often cut the half of the handle off to keep weight down – we'll leave that up to you!
Lightweight down jacket
Bib shorts
Merino base layer
Packable waterproof jacket
Spare socks
Toothbrush
Wet wipes
Sun cream and lip balm
4. Food & Water
Like a car needs fuel, you'll need food to keep pedalling for consecutive long days. Bring more snacks than you need, especially if you're going off grid.
It's great to be able to cook your own food outside your tent. To do that, you'll need a lightweight and compact stove. Bring the bare minimum cooking wise as pots can be hard to fit in. Titanium is the expensive option but does cut down on weight and should last a lifetime.
Water is a primary concern and challenge on any trip. Always stock up when going through towns or villages, and look out for taps at churches or community buildings. Taking a quality water filter is a good way to tap into streams and natural water sources, too.
Compact camping stove
Spork
Water filter
Coffee
Whatever your setup, remember you're unlikely to get it spot on first time. It's best to get out there and test yourself. You'll slowly refine your setup over time and land on that perfect gear list for you.